Friday, 01. June 2012
NFC Congress 2012 in September
The 5th Congress on Near Field Communication will be held in Hagenberg, Austria, from September 11th –12th, 2012. The big focus this time will be Mobile Payment during the next years.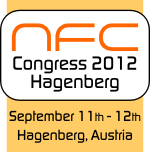 Therefore, a dedicated session on this topic, where the big players present the future of mobile payment, is organized. Other topics of this event will be applications, transportation, software development, testing and security. The NFC Congress is the right place to exchange views, experiences and information about the newest applications, rollouts, services and technologies. In addition to the Business and Applications Conference, an exhibition gives the opportunity to demonstrate new products and services.
Date: September 11th/12th, 2012

Location: Hagenberg, Austria


For further information on this event follow the link below.
---
Links:
FH OOE Forschungs & Entwicklungs GmbH | Softwarepark 11 • 4232 Hagenberg • Austria